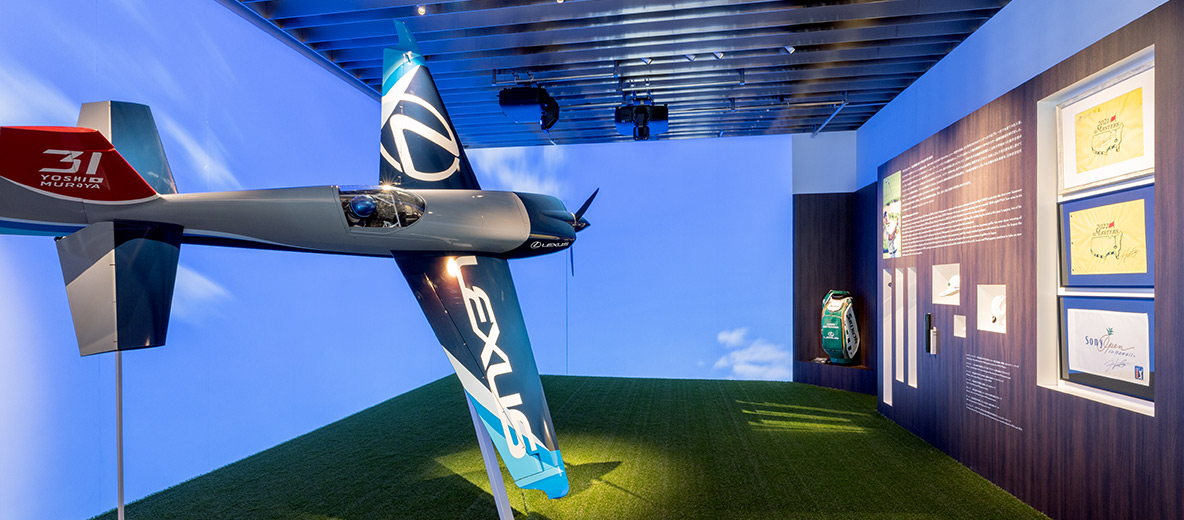 July 05, 2022 -
Golfer Hideki Matsuyama and Air Race Pilot Yoshihide Muroya Exhibition
From July 5, INTERSECT BY LEXUS – TOKYO's ground-floor Garage space hosts a special exhibition showcasing equipment used by golfer Hideki Matsuyama and air race pilot Yoshihide Muroya.
Golfer Hideki Matsuyama and air race pilot Yoshihide Muroya: whether on the ground or in the sky, they both deliver incredible thrills and keep pushing themselves to reach the very pinnacle of their field.
This exhibition at INTERSECT BY LEXUS – TOKYO features items connected to both top sportsmen in a space inspired by the green golf course and blue sky in which they respectively dazzle us with their skill. Immerse yourself in their achievements, their constant efforts to develop and improve, and their discerning and uncompromising attitude toward their equipment.
Through exhibitions such as this, Lexus sets out to share the excitement and emotion of golf and air racing through Matsuyama and Muroya's careers, and in doing so cheer these two sportsmen on to ever greater heights.
Exhibitions dates: July 5–August 2022
Yoshihide Muroya 1:3 replica airplane until July 28

Yoshihide Muroya (Air Race Pilot)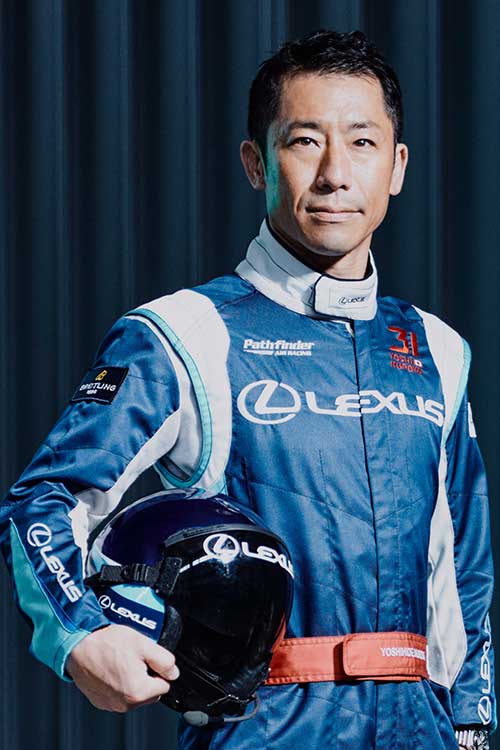 In 2009, Yoshihide Muroya became the first Asian pilot to compete in the Red Bull Air Race World Championship1. In 2017, just one year after winning his first Red Bull Air Race in Chiba, he won four of the eight rounds in the Red Bull Air Race World Championship season to become the first ever Asian world champion.
Since 2016, Lexus has worked with Muroya on a technical research program that explores the synergy between the automotive and aviation fields. At first glance, the realms of land and air may seem worlds apart, but they face similar challenges when it comes to taking dynamic performance to the next level. Aerodynamics, cooling and ergonomics were identified as three key areas where engineering expertise could be shared to mutual benefit.
In 2021 Lexus expanded the partnership with Muroya to create Lexus Pathfinder Air Racing (LPAR), capitalizing not only on car design but also motorsports know-how to offer support in everything from research and development to race operation. The fruits of the collaboration worked both ways: in 2020, the special edition Lexus LC "Aviation" integrated aerodynamic technology used on Muroya's aircraft.
Applying the technology and ideas from the rigorous extremes of air racing to innovations in car design and mobility is just one way Lexus strives to make the world a better place.
Lexus LC "Aviation" – a special edition model inspired by the birds and planes that grace the sky
(Not currently on sale)
https://global.toyota/jp/newsroom/lexus/34009653.html
Hideki Matsuyama (Golfer)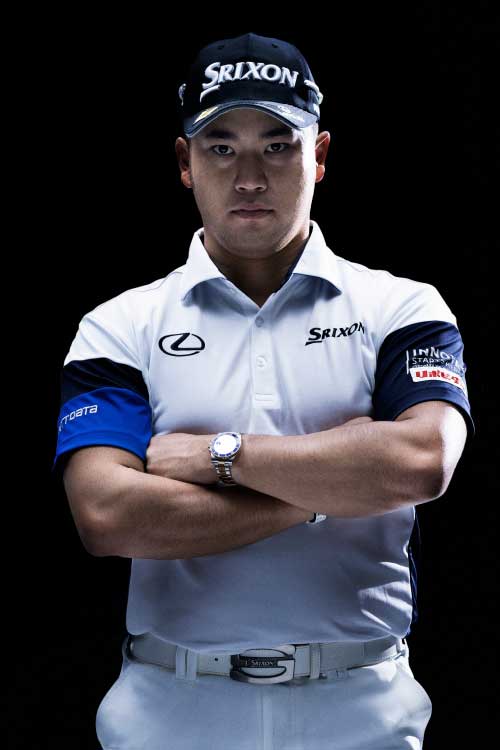 Making his debut on the United States PGA Tour in 2014, Hideki Matsuyama's victory at the majors championship in April 2021 made him the first ever Japanese male golfer to win a foreign major. He also finished fourth at the Tokyo 2020 Olympics that year, narrowly missing out on a medal. With eight PGA Tour wins to his name, including the Zozo Championship in 2021 and Sony Open in Hawaii in 2022, he holds the joint record for an Asian player.
This exhibition features a selection of the golf equipment that helps Matsuyama play at the top level, including the caddy bag he used at this year's majors, two of his actual golf wedges, and a personally commissioned driver that embodies his meticulous approach to his equipment.
Despite his major championship victory, he isn't resting on his laurels. Matsuyama's next ambition is to achieve what no Japanese golfer has ever done: winning all the majors. His unyielding determination is evident in his attention to detail in his equipment, and the single-minded passion with which he trains. He hopes the experiences he has gained from playing at the top level of his sport can serve to cultivate and inspire the next generation of golfers in Japan.
Lexus became Matsuyama's sponsor in 2014, seeing a resonance between the brand and his dedication to his craft. Lexus and Matsuyama continue to take on new challenges and drive forward together.
Hideki Matsuyama Exhibits
Caddy bag: the caddy bag that Matsuyama used at the 2022 Majors
Driver: a prototype in the same design as the actual driver Matsuyama uses
Wedges: the wedge Matsuyama used in 2019
Cap: one of the caps Matsuyama wears
Gloves: the same design of gloves Matsuyama wears
Ball: the same kind of ball Matsuyama uses
Pin flags: the pin flags autographed by Matsuyama for tournaments played in 2021 and 2022
---
*1 The Red Bull Air Race World Championship was a series of World Air Sports Federation–approved air races held from 2003 to 2019 with the World Air Sports Federation (FAI). It will be held in September 2022 for the first time in three years as the Air Race World Championship.↩